Welcome to September's Stamptastic Friends Blog Hop
The theme this month is Autumn
September in the UK sees the start of the leaves on the trees turning from green to orange, yellow, red and brown. Where I live in East Anglia I am lucky to be able to drive down tree lined country roads and look at all the trees changing colour.
For my project I decided to continue using the Poinsettia Place Designer Series Paper but this time I chose to use the pine cone sides of the paper. I love going for walks through the local woods and looking for pine cones.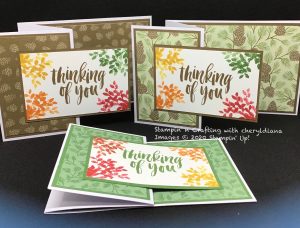 I started these cards by cutting Whisper White card stock in half lengthways and scoring each strip into half and one quarter.
Next I cut mat layers to match the colours in the Designer Series Paper. The colours I used are Soft Suede and Garden Green. I then cut the DSP into mat layers and stuck onto the card mat layers. These I then stuck onto the card bases.
For the middle of each card I stamped a sentiment from the Rooted in Nature stamp Set using Soft Suede ink and by using one of the leaf stamps made a border using Real Red, Garden Green, Cajun Craze and Crushed Curry Ink pads.
This layer was then stuck to a mat layer cut from the same card stock as the rest of the card.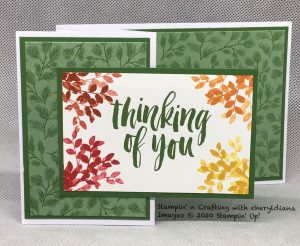 As the final card had a green background I decided not to stamp Garden Green leaves but to add another set using Real Red ink.
I hope you have loved my cards for this Autumn Blog Hop and that you have a couple of ideas to try yourself. I certainly loved using the Rooted in Nature stamp set again.
Please click on the list below to see what my fellow demonstrators have used for their Autumn theme this month. And of course please leave comments as you hop from one to another.
Blog Hop List