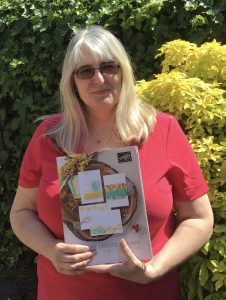 Hello, I am Cheryl Taylor and I live in the village of Burwell, Cambridgeshire, England. I have been interested in stamping and crafting since a very small child when I was given a John Bull letter stamp set and afternoons spent with my great aunt sewing.
I have used loads of different crafting suppliers but have often struggled to find matching shades of a colour card, ribbon and embellishments.
Then in 2008/2009 a scrapbooking friend introduced me to a new company who did crafting products including stamp sets. That company was Stampin' Up! I looked through the catalogue and from then on I was hooked.
In 2016 I attended a 12 hour Christmas craft workshop being run by another demonstrator. She was surprised when my mum and I turned up with Stampin' Up! products in our basic kit. After asking a few questions about becoming a demonstrator I signed up as a demonstrator. This means I can share my passion with other crafters through classes, workshops and craft fayres.
Did you know that stamping and crafting is an amazing way to switch off from everyday situations and stresses. I use it for 'me time' as well as a way to meet other people.
One of my favourite events is the Stampin' Up! On Stage events where I get to meet other demonstrators face to face. I receive the latest catalogue before anyone else, see demonstrators showcasing new suites and of course the ability to order new products before anyone else.