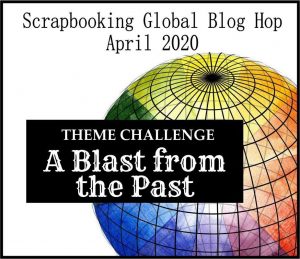 Welcome to this month's Scrapbooking Global Blog Hop.
I love the theme this month as it means I can continue scrapbooking my old family photographs and of course add some family history notes to it later.
It took me a little while to choose which photographs I could use. Then I had to choose the Designer Series Paper and layout to use.
I did cheat and look at the layouts in the Scrapbooking Global Facebook Group albums and as often happens came up with a totally different layout to do.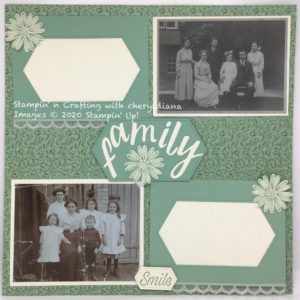 I had some old photographs of my Paternal Grandparents Families from when my nanna and granddad were children. Isn't it interesting seeing how fashions change and how their positions as so fixed as they had to stand for so long for the camera to take the photograph. We are so luck to have digital photographs now a days.
I trimmed the photographs down slightly and stuck them onto a Very Vanilla mat layer before fixing onto the Garden Lane DSP. For the journalling blocks I die cut out the middle of Mint Macaron using the Stitched Nested Label dies and fixed Very Vanilla card stock behind it. I will journal them later once I find my family history notes.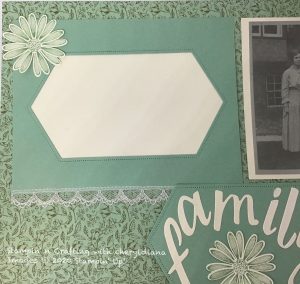 Using one of the Mint Macaron die cut middle to make a title, I die cut the letters FAMILY using the Hand Lettered Prose dies. These I stuck down before deciding that I wanted to add some flowers to the layout.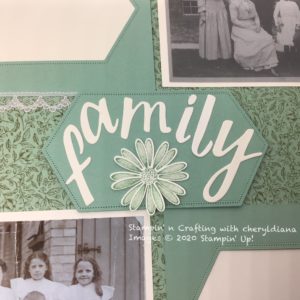 The flowers I decided on were the small daisy stamp from Daisy Lane and matching punch. I was very surprised to find that I had not used that actual stamp.
I stamped the daisies using Mint Macaron Ink and stuck them onto the layout.
Finally before sticking down the title I stuck a layer of 1 cm Scalloped Lace Trim ribbon along the bottom of the journalling blocks.
I hope you have enjoyed seeing my scrapbook layout and that it has given you some ideas to try out yourself.
Please click on the next button to visit Sara and see her 'Blast from the Past' layout. Please do remember to leave comments as you hop along.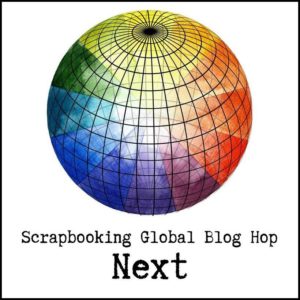 Blog Hop List
Product List