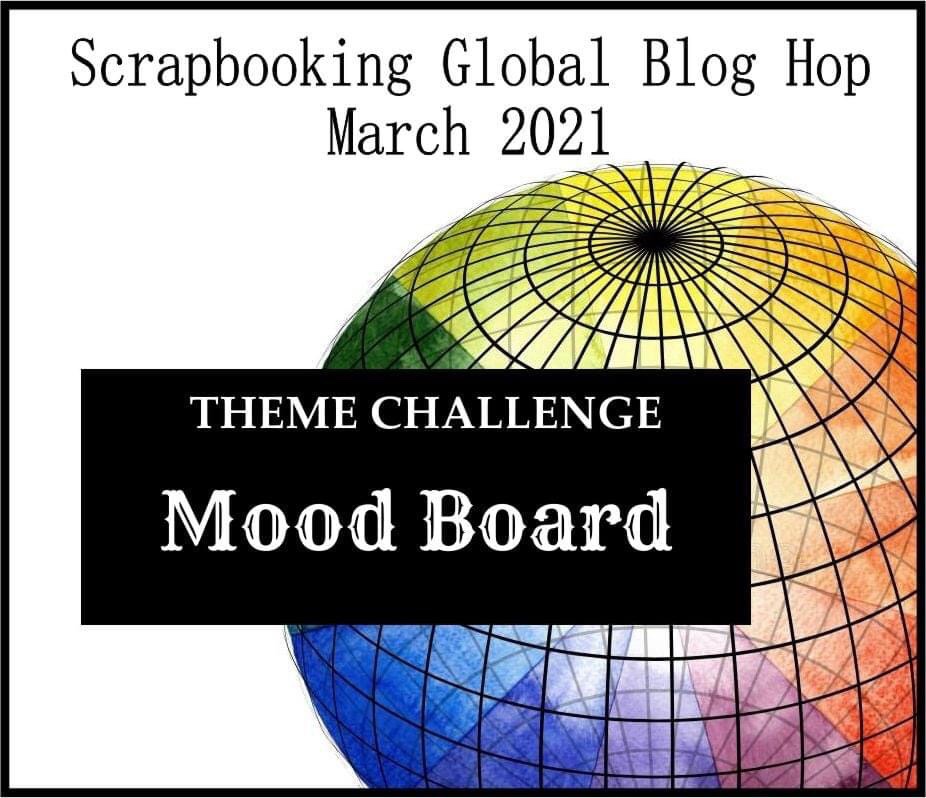 Welcome to the Scrapbook Global Blog Hop
The theme this month is a Mood Board
This month's Scrapbook layout Mood Board theme has been decided by Sharon Dalton. I cannot remember every using a Mood Board to design a scrapbook layout so this was an great opportunity to have a go.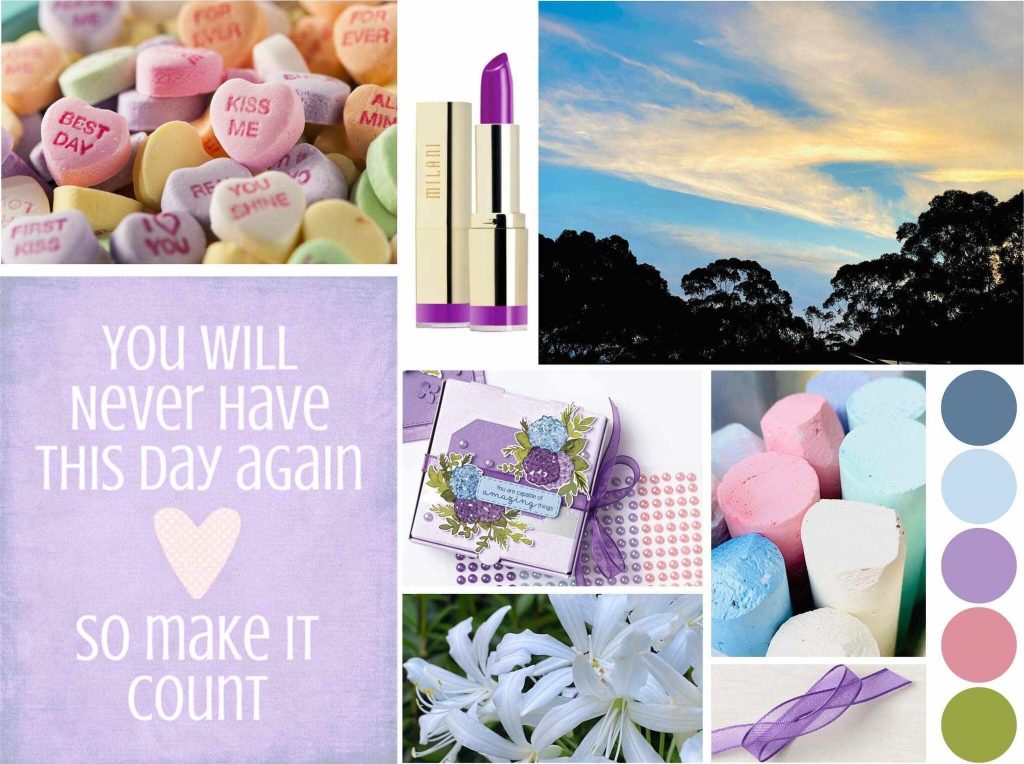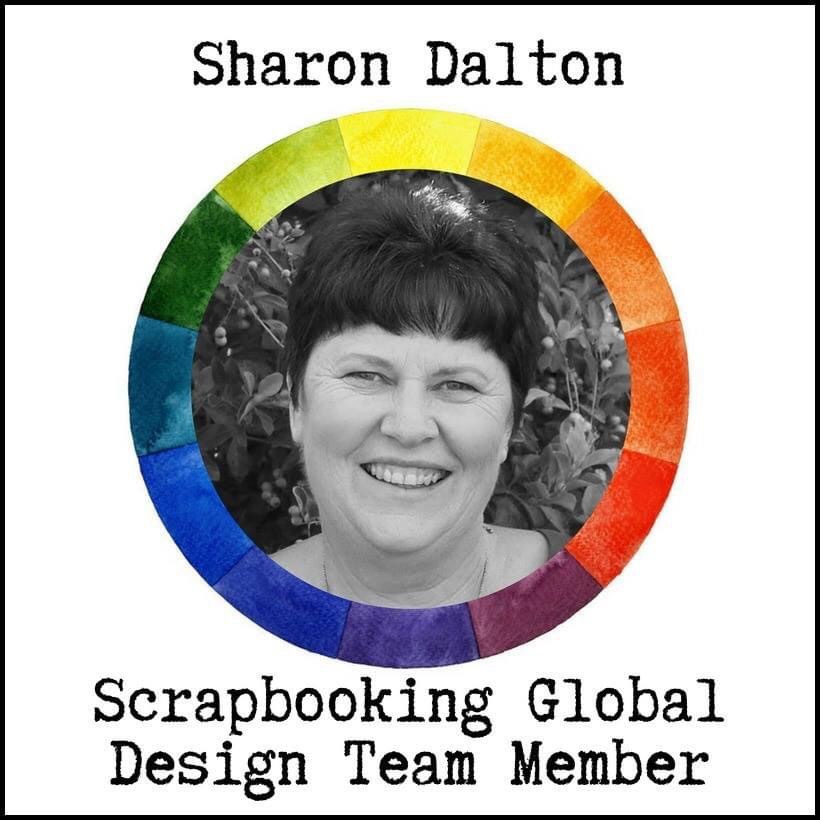 First I started by getting the card stock and ink pads out for the colours, Misty Moonlight, Seaside Spray, Highland Heather, Roccoco Rose and Pear Pizzazz. I was tempted to use the Hydrangea Haven Suite but decided against it and try something else.
I decided to do a double layout so that I could finish scrapbooking my only baby photos. My parents were given a colour photo film roll as a present. They decided to take some photos of me when I was about 6 months old.
Mood Board Layout Page 1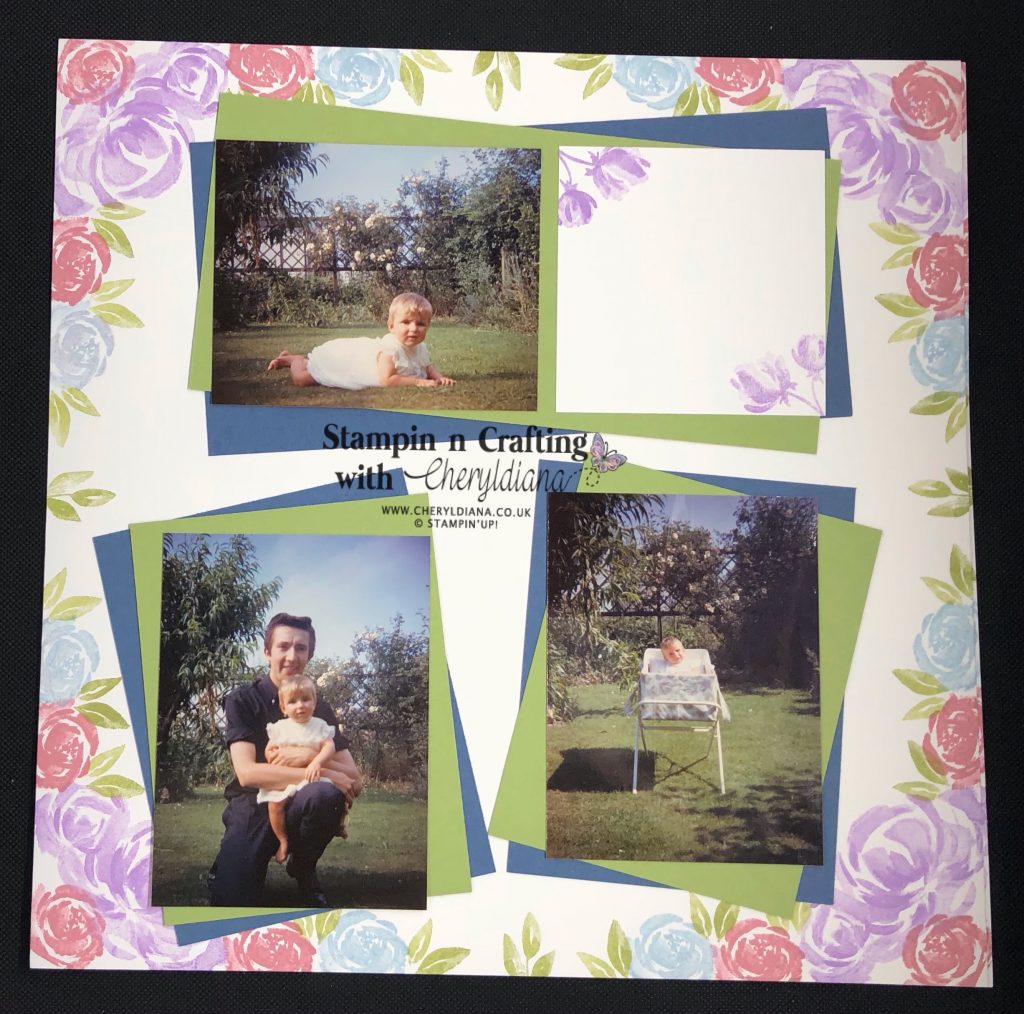 I started by mounting the photos onto a Pear Pizzazz mat layer and then a Misty Moonlight mat layer. As I did not want the photos to be regimented on the page so I made each mat layer off centre with the photos being straight on the page. I decided that I did not want to have a separate journalling mat layer so joined it to the landscape photos. I have never done this before and love how it looks.
Then came the hard part. How to link in the other colours in the mood board. I looked at the Hydrangea DSP but I was not sure if they went with my photos. So I decided to go for my favourite Beautiful Friendship stamp set.
I started off by stamping the large flower image onto Basic White 12×12 card stock in Highland Heather ink. I then stamped the smaller flower image in Roccoco Rose ink and then Seaside Spray ink. It still looked not quite finished so I used Pear Pizzazz to stamp the leaves.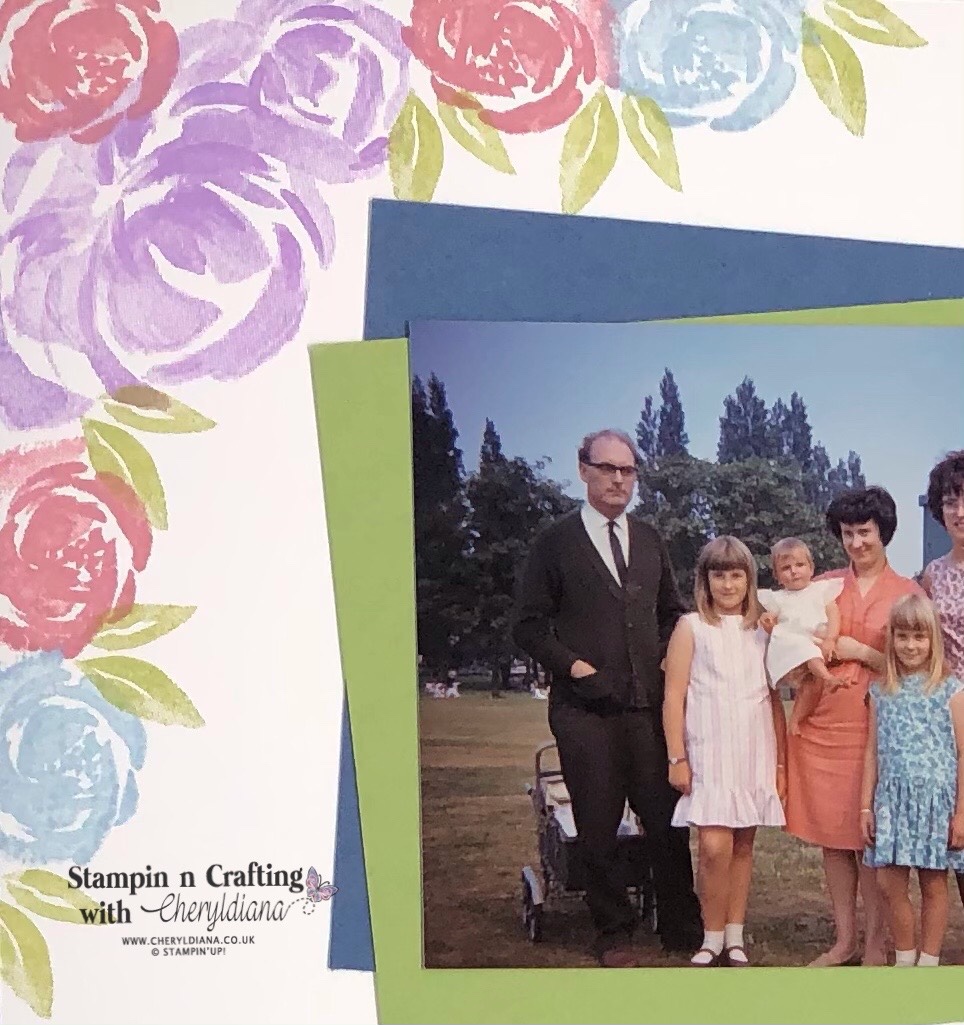 I started with opposite corners being stamped but I still had a lot of white space. So I decided to stamp the other two corners and stamp the larger leaf image in the middle of each side.
Mood Board Layout Page 2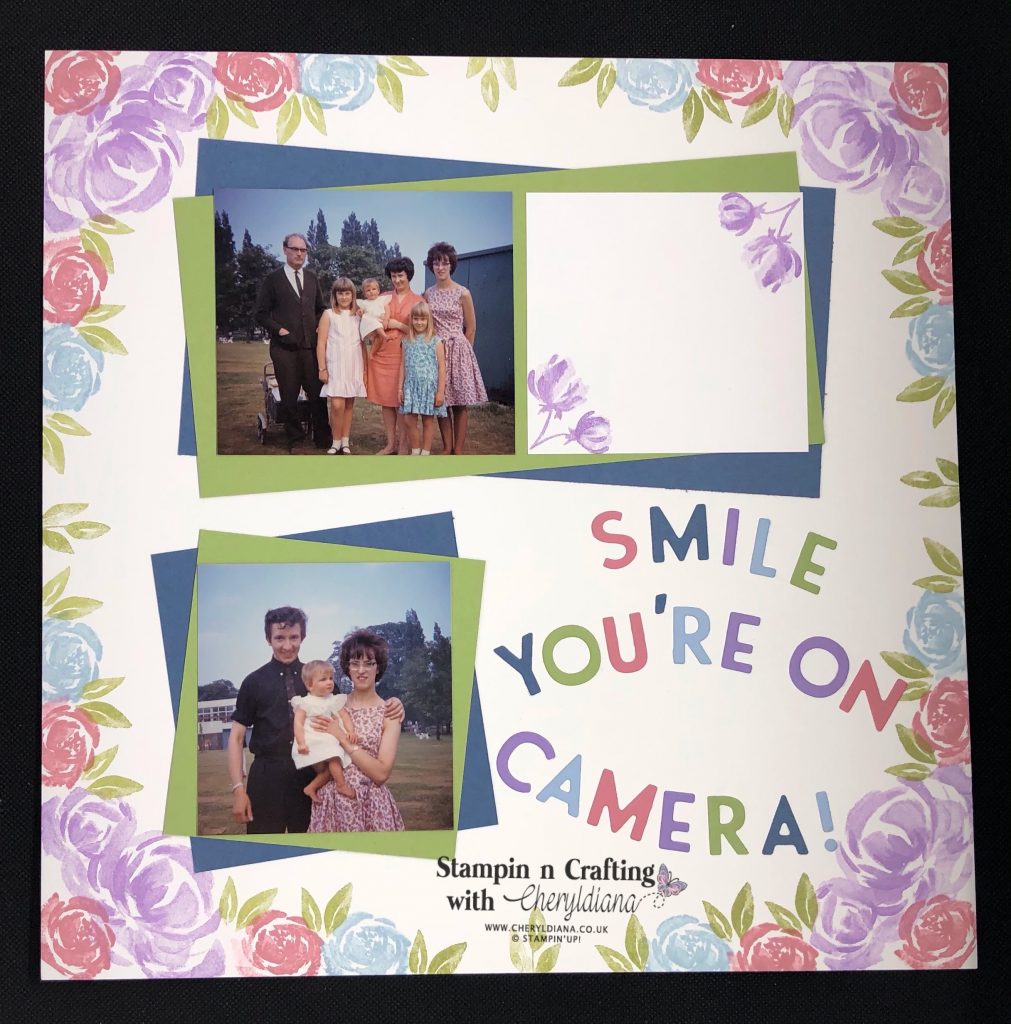 I stamped the second page the same way as the first page but left a space at the bottom right hand corner to add the title.
It took me a while to decide on a title but as having a photo taken was not an everyday event people often found it hard to pose for photos so I decided on the title 'Smile You're on Camera'. I die cut the letters out of scraps of all the colours and the Playful Alphabet dies. I then laid them onto the page a stuck them down.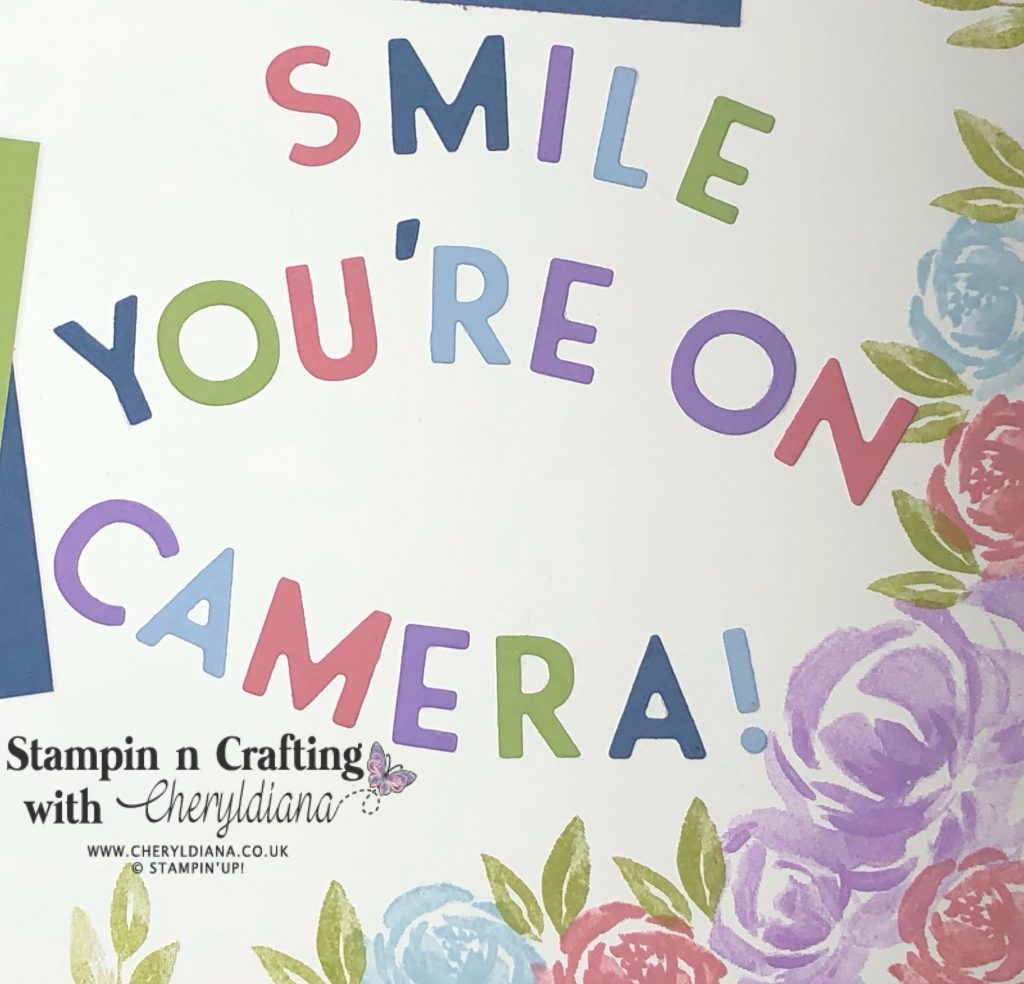 Finally to finish the layout off I stamped a couple of flower images in opposite corners of the journalling mat. Now all I need to do it catch up with my mum (once lockdown is over) and find out more about the photos and do the journalling.
I hope you have enjoyed seeing my double page layout as much as I did making it. Why not have a go at doing a mood board layout yourself.
Thank you for visiting my website today, remember to keep stampin n crafting.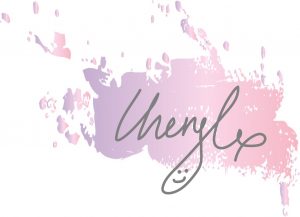 Please remember to leave comments as you hop around.
Please click on the NEXT button to see what layout the wonderful Janice has come up with using the mood board.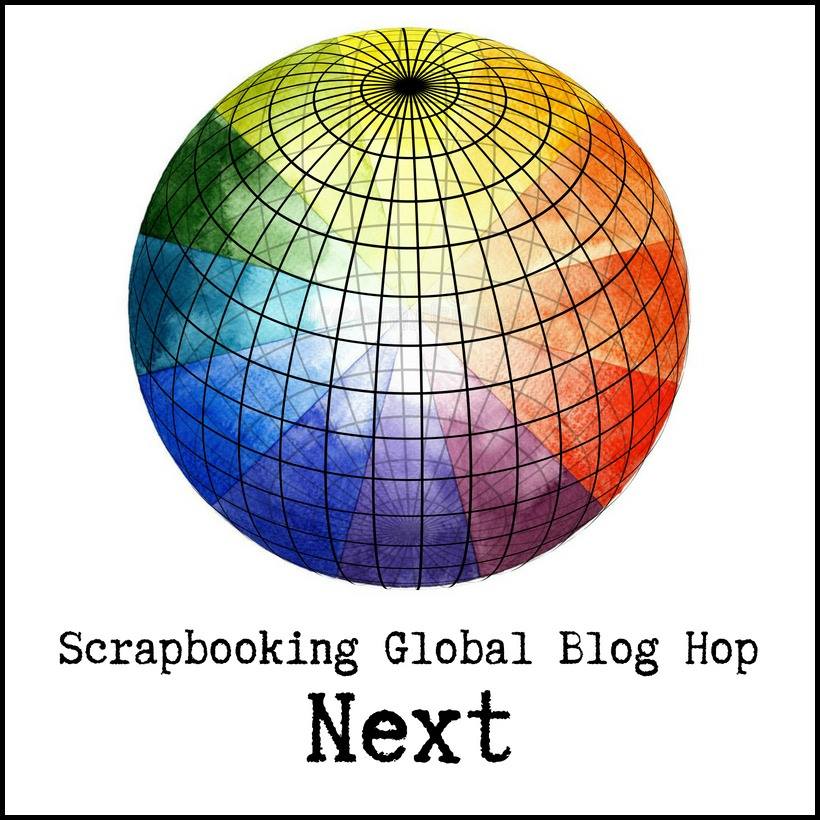 Blog Hop List
Product List
Additional Information
Request a free catalogue – click to

request

a Stampin' Up! catalogue on then button on the left hand side of your screen.
Go straight to my On-Line Shop
April's Shop code is 

UFBVBS44

 – Please use it when you order between £25 and £149 and receive a free gift and card from me. 
If your order is over £150, please do not use this code, but I will still send you a card and free gift.
Large orders or wanting to host a party then you will get Stampin' Rewards for orders or party orders over £150.
Coordinating Bundles – Save 10% on stamp sets and with matching dies or punches
Grab a bargain at the Clearance Rack – Save up to 70% 'whilst stocks last'
Newsletter – Sign up for my newsletter, classes and latest special offers by clicking on the button on the left hand side of your screen
Join Now – Get £130 worth of products for only £99.  Choose from current catalogues and any specials available.  Free shipping and special demonstrator benefits