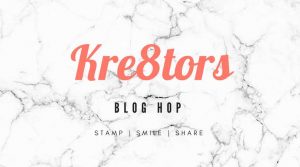 Welcome to the Kre8tors February Blog Hop.
I live in a lovely village in Cambridgeshire and today the weather is cold, wet and windy as we are experiencing Storm Eric.  So on days like this it is best to stay indoors and craft.
The theme this month is Valentines/Love.
Whilst I was looking on line I came across a card with envelopes on the front, with each envelope holding a message inside.  So I decided to make a variation of this card and to use some of our products from the Annual Catalogue as sometime when a mini catalogue comes out we often forget about the Annual Catalogue.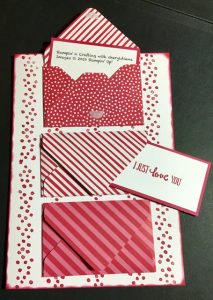 I started this card by making the three envelopes using our envelope punch board.  This is a great product to make various sized envelopes.  I decided to use the 2018-2020 In Color 6×6 designer series paper and for love chose the Lovely Lipstick papers.  Once the envelopes were made I cut some Lovely Lipstick and Whisper White card stock to make three cards to go inside the envelopes.  Then I used one of the sentiments from Petal Palette to stamp a Lovely Lipstick message.  The other two I can write personal messages on.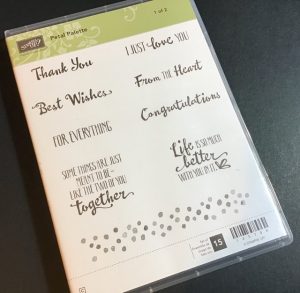 I decided to make an A5 sized card and using the dot stamp from Petal Palette stamped lines on the front of the card, again I used Lovely Lipstick ink.  The envelopes were then stuck to the front of the card and to finish off the envelopes so that they would remain closed I used velcro dots.
I hope that you have loved my simple Valentines/Love card and that it has given you some ideas to take away and use.
Please do leave comments as you visit each person taking part in this hop.
To go to Dorothee and see her lovely samples please click onto the NEXT button.
Happy hopping
Cheryl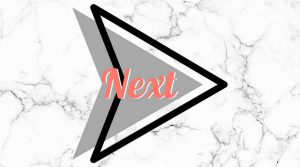 Melissa Tennison
Su Mohr
Tricia Butts
Kathy Maurer
Janey Backer
Ilonka Schneider
Jacqui Lawrence
Sandra Roberts
Kirsteen Gill
Pia Gerhardt
Jacqueline Schilder
Tracy Marie Lewis
Linda Handford
Sue McDonald
Alexandra Rauf
Anastasia Radloff
Jo Blackman
Laura Kate Mackie
Cheryl Hamilton
Deb Naylor
Rebecca-Jo Unwin
Ximena Morales
Cheryl Taylor – YOU ARE HERE
Dorothee Buhn
Eva Potts
Jan Musselman
Annette Elias
Products Used