FRIENDS OF SUBA 

Welcome to the Friends of SUBA Blog Hop.
What does SUBA stand for? SUBA stands for Simply Unique Business Angels, and is run by Pip Todman and Louise Sims.   Back in August 2017 I attended a SUBA Training Course to help move my business into the Social Media arena.  Pip and Louise have welcomed me with open arms and are constantly helping others like me to understand the systems that they use and build the confidence to use them more so. There was another training course in February 2018, the group of  Stampin' Up! Demo's who attended, decided to join up to create a blog hop so that what they had learnt could be put into practice. I was lucky to join this group and this is my first blog with this group.
April's Blog Hop Theme – Retiring product
This month's blog hop is all about the retiring products from the Annual and Spring/Summer catalogues.  I am very sad to see both Pink Pirouette and Wisteria Wonder retire this year.  I chose these colours together with Mossy Meadow as my wedding colours when I got married to my amazing husband and best friend in October 2015.  I have also chosen one of my favourite stamp sets that I bought as a Stampin' Up! customer well before I became a demo.
One of my favourite hobbies is scrapbooking so to make a change from cards I decided to do a scrapbook page for you.  Plus I have a few spare photos of my lovely wedding bouquet.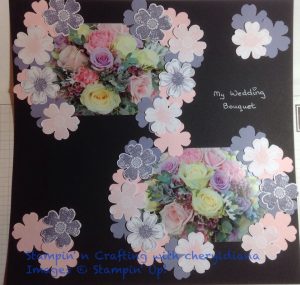 As you can see the Flower Shop stamp set and pansy punch go well with the colours I have used.  I will be sorry to see these colours, stamp set and punch retire but of course I will still continue to use them for scrapbooking.
To start with I decided to mount my photos onto Basic Black 12″ x 12″ card stock.  It was shocked to see that this product is also retiring so I just had to stock up on this before it ran out.  Though ordering 6 packs might have been a bit over the top.  Then using Pink Pirouette and Wisteria Wonder ink pads I stamped onto Whisper White card stock and punched out the flowers.  Then I punched out some more flowers using Pink Pirouette and Wisteria Wonder card stock.
The punched out flowers were then arranged around the photos and stuck down using Tombow.  Finally I wrote a simple note using a white gel pen.
I have tried today to show you that we have some amazing products retiring soon.  There are of course some equally amazing products replacing those that are retiring and I hope to be able to share these with you very shortly
I hope you have enjoyed the scrapbook page that I have shared with you today.  We do appreciate reading your comments on our posts.
Please enjoy the rest of your 'hop' around the globe today by clicking the next button below to visit  Ginny and see the wonderful creations she has to share with you.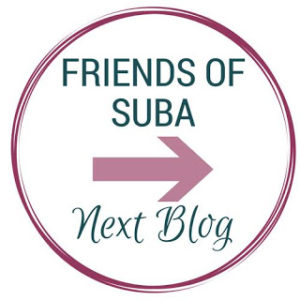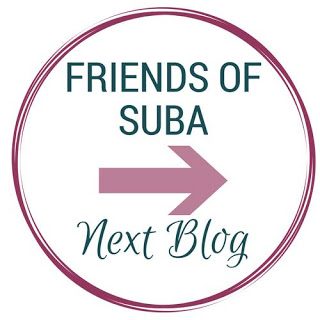 Blog hop list
Deborah at DJC Creativity
Gina at Emerald Kreations
Caro at Craft with Caro
Sandra at Sandra's Stamp & Craft Studio
Carrie at the Inky Nook
Di at Dianne Richardson Craft
Leighsa at Leighsa's Loft
Cheryl at Stampin' n Crafting with Cheryldiana
Ginny at Celebrate the Journey
Mikaela at The Crafty oINK Pen