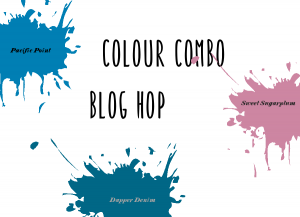 Today I am taking part in another colour challenge, with other Independent Demonstrators, as part of the Colour Combo Blog Hop.  I am based in Cambridgeshire.  In this month's blog we have been given certain colours to use.
The colours for this Blog Hop are:  Sweet Sugarplum, Dapper Denim and Pacific Point.
Sweet Sugarplum and Dapper Denim are two of the 2016-2018 In Colors and will be retiring at the end of May 2018.
Sometimes after a busy day at work it is nice to come home and retire to my craft room to relax.  Today was such a day and I decided to use of my favourite stamp sets – Flower Shop.  It comes with a matching punch – Pansy Punch.  The Flower Shop stamp set has 5 different flower stamps and today I have chosen to use one that has not been used as much as the others.
One thing I love about Stampin' Up! is that all the products match, from card stock to ink pads and marker pens.
Here is the card I came up with: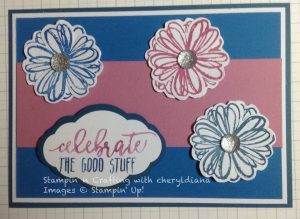 For the base I chose Dapper Denim and mounted a Whisper White base on top of it.  The next layer is Pacific Point, this is a lovely bright blue and to break up the Pacific Point card stock I added a Sweet Sugarplum strip.
I then stamped and punched two flowers in each colour and stuck one on top of the other to make a double flower.  These were placed randomly on the card base.
As I have mentioned above I love how Stampin' Up! matches their products.  I chose a sentiment from the Picture Perfect Birthday stamp set and decided to use matching Marker Pens to colour in the stamp using the 3 colours.  This was then stamped onto Whisper White card stock and backed using Dapper Denim as a border using the Pretty Label punch.
I hope you have enjoyed the card that I have shared with you today.  We do appreciate reading your comments on our posts.
Please enjoy the rest of your 'hop' around the globe today by clicking the arrow to visit  Elisabeth Pirolt and see the wonderful creations she has to share with you