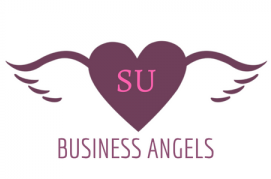 We are a group of Stampin' Up! demonstrator friends that have met through attending fantastic Simply Unique Business Angels courses, run by Louise Sims and Pip Todman, to help with the technology side of our business.  They are highly recommended by all of us.  You can find out more here.
Whether you have just join our blog hop or hopped over from Carrie I hope you enjoy our projects using this month's theme of Spring Colour Combo.
We have been given the following 3 colours: Petal Pink, So Saffron and Garden Green.

As the theme is Spring I thought I would use the Bloom by Bloom stamp set.
I have tried to keep this card fairly simple but rather than having every mat layer straight I have done them all at an angle to give a different look.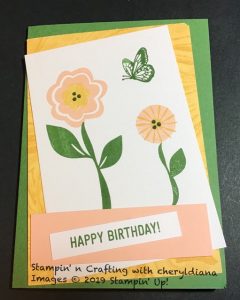 For the So Saffron layer I used the Marble stamp and inked it with So Saffron ink before laying the So Saffron card stock on top if the stamp rather than stamping onto the card stock.  This I find is easier to do with the big background stamps.
As there was a white space at the top of the card I stamped one of the butterflies from Beauty Abounds stamp set.
I hope you like my card and that it has given you ideas for your own card.  Please do leave comments as you hop around.  Please click onto the next button to see what project Deborah has done with these colours.
Thank you
Cheryl